Welcome to the 12th Legacy
The 12th Legacy is one of the fastest growing fleets within the world of Star Trek: Online.
We pride ourselves in our openness and commitment to providing the best experience for all of our members regardless of their chosen game, play style or level of experience.
Don't play Star Trek: Online? Click Here.
&nbsp

Community Powered
We pride ourselves in our sense of community and openness, we are always happy share our expertise to those in need.
Upon enlisting with the 12th Legacy you are given a choice of 4 "Branches" to join, this highlights your preferred play style to other members and lets you associate with those who share similar interests. Each branch is managed by its own "Chief" and a "Vice Chief" along with other supporting members who are tasked to ensure their branch is running smoothly and provide any assistance if needed.
We understand that family and personal life comes first, because of this we don't make any demanding requirements in terms of activity, in order to remain in the Fleet. As such we only require you to be present in game and on the forums once every six months.
&nbsp
&nbsp
UFP Armada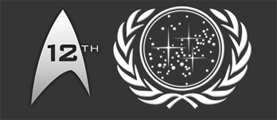 The 12th Legacy is proud to be a active and contributing Beta Fleet within the United Federation of Planets (UFP) Armada.
As part of the UFP Armada, we have the best opportunities to engage our community and participate in activities that support our fellow Armada members.
&nbsp
Ancillary
At the 12th Legacy, the one thing we all have in common is our love for Star Trek, however we don't just play Star Trek: Online (STO), we often branch out into other gaming genres and often do so as a group.
Thanks to our Ancillary Division and our growing list of supported games, people who don't necessarily play Star Trek: Online can still be a part of the community.
Being in the Ancillary Division means you gain the same rights and access as any other fleet member. This means you can take part in fleet internal discussions and vote on upcoming decisions. You are also exempt from the idle timer on the 12th Legacy's Teamspeak channel, allowing you to stay as long as you like. You also have access to our 12th Legacy Steam Group, allowing you to mingle directly with other members.
How to apply:
Simply register as normal and follow the links to the 12th Legacy application form, selecting "Ancillary" as your chosen Branch.
Or contact Member of Staff.
&nbsp
&nbsp
Want to know more?
If you have any questions, feel free to contact a Member of Staff or post a question on our Forums.